UPDATE: Schools, Hospitals, Businesses Demolished, Over 25,000 Displaced In Otodo-Gbame
The members of the Otodo-Gbamecommunity condemned Lagos State Governor Akinwumi Ambode for going against a court order that restricted further demolition of any waterfront community in Lagos.
Pointing out that the community has been under threat of take-over by the influential Elegushi and Ikate families, members of Otodo Gbame said they had lost confidence in the court injunction which went into place after a similar demolition occurred in November 2016.
Everybody was surprised to see the excavators came into the community," Mr. Unga said. "We tried explaining to them that they cannot enter the community because we have a court order that bars anyone including Governor Ambode to demolish any building here."
Mr. Unga said that police officers ushered the demolition crew into Otodo Gbame, shooting guns into the air and firing teargas to scare people away from the community.
He continued, "this is a sad situation we are in now since we are just recovering from the November 2016 demolition. In November, there were traces that the Elegushi family is behind the demolition but now, the Ikate people are part of the suspects. They want to forcefully take this land from us and we know they are working with the backing of Lagos State government."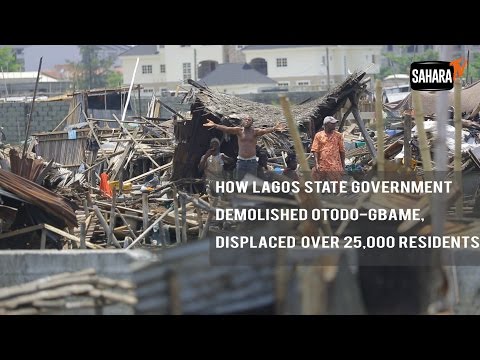 Now, It is your turn to Help Spread This
Leave Feedback and Comments for this
Find Related Videos Here